August saw quite a lot of change for my family and me. We've switched to a mostly plant-based diet and have also started to venture into minimalism.
Work
Been involved in a redesign project of one of the company's products - but not only are we doing a redesign, but the devs are also rebuilding the application to use Micro frontends and turn everything into components.
Doing both projects at the same time was not a great idea. So much wasted time was spent trying to get the local dev environment to work so I could change some CSS files.
Freelance
I've not done any freelance work for a while now. I'm still waiting for a client meeting to discuss some final updates to their website and adding a new feature. We've not been able to align our schedules yet. Once that work is complete, that will likely be it for freelance work.
Personal
August saw quite a lot of change for my family and me. We've switched to a mostly plant-based diet and have also started to venture into minimalism. I say venture because we've only just started with the basics - getting rid of all the stuff we don't need, decluttering and reducing what we bring into our home.
Switched to a mostly plant based diet
We decided that now was a good time to reconsider our diet, food (meat) consumption and its impact on our planet. Will a family of five stopping their meat and fish consumption make that much of a difference? Most people will say no, but we believe that it will. The more people that reduce their meat consumption, the more companies will notice, and we'll get more vegan products on the supermarket shelves.
It's too early to say whether it's had any health benefits yet, but we have noticed it in our wallets - the food shop is a lot cheaper when you don't buy loads of meat products. One thing we quickly learnt was that the 'fake meat' alternatives aren't great; it also made it a lot easier to switch to this new diet by not trying to find like-for-like replacements - we've bought a few vegan recipes books and are continuing to cook most of our meals from scratch but without meat!
Becoming minimalists
As part of this venture, we have given away a lot of stuff we've had in our house for ages that served no purpose, just sat collecting dust. We gave a lot to charity; unfortunately, some stuff, including old furniture had to be taken to our local recycling centre (aka the tip/dump).
My wife did most of the house sorting - I did my office and the garage, which had so much stuff; it was an obstacle course to get to the other end of the garage!
House and garage clear out
Some of the things I got rid of are books I've read - I'm keeping all my Stephen King hardbacks, but all the paperbacks I've read are going to a charity shop - where they will likely get read again, rather than sitting on a shelf collecting dust.
The garage has been our dumping ground since we moved into this house about nine years ago - everything that we didn't fit want in the house we put in the garage, old furniture that was too good for the tip, we kept when we got a replacement. There were just so many things we didn't need or use in the garage.
But also in the house - as soon as you start looking at cupboards, drawers, under the bed - you start seeing so many things you've kept out of guilt or just because it was given to you or you spent money on it, but has not been used in years - why keep it and continue making the house cluttered.
Unfortunately, I didn't take a before photo of the garage - so you will just have to imagine how bad it was - you could barely see the floor!
This photo shows most of the contents of our garage, spread out on our patio in different categories ready to be sorted.

And this photo shows what our garage currently looks like. Great progress so far - still have a few more boxes to sort out and I need to install hooks for things like ladders etc.

Glamping holiday in Yorkshire
Our one and only family holiday this year saw us returning to Kingfisher Lakes in Yorkshire for a glamping holiday. This year we stayed in a big canvas tent instead of a bell tent because our friends and their children joined us. We once again had a great time and enjoyed kayaking on the lake, countryside and seaside walks. No fire pit this year because of heat and with everything around being so dry and prone to wildfires - but that was ok.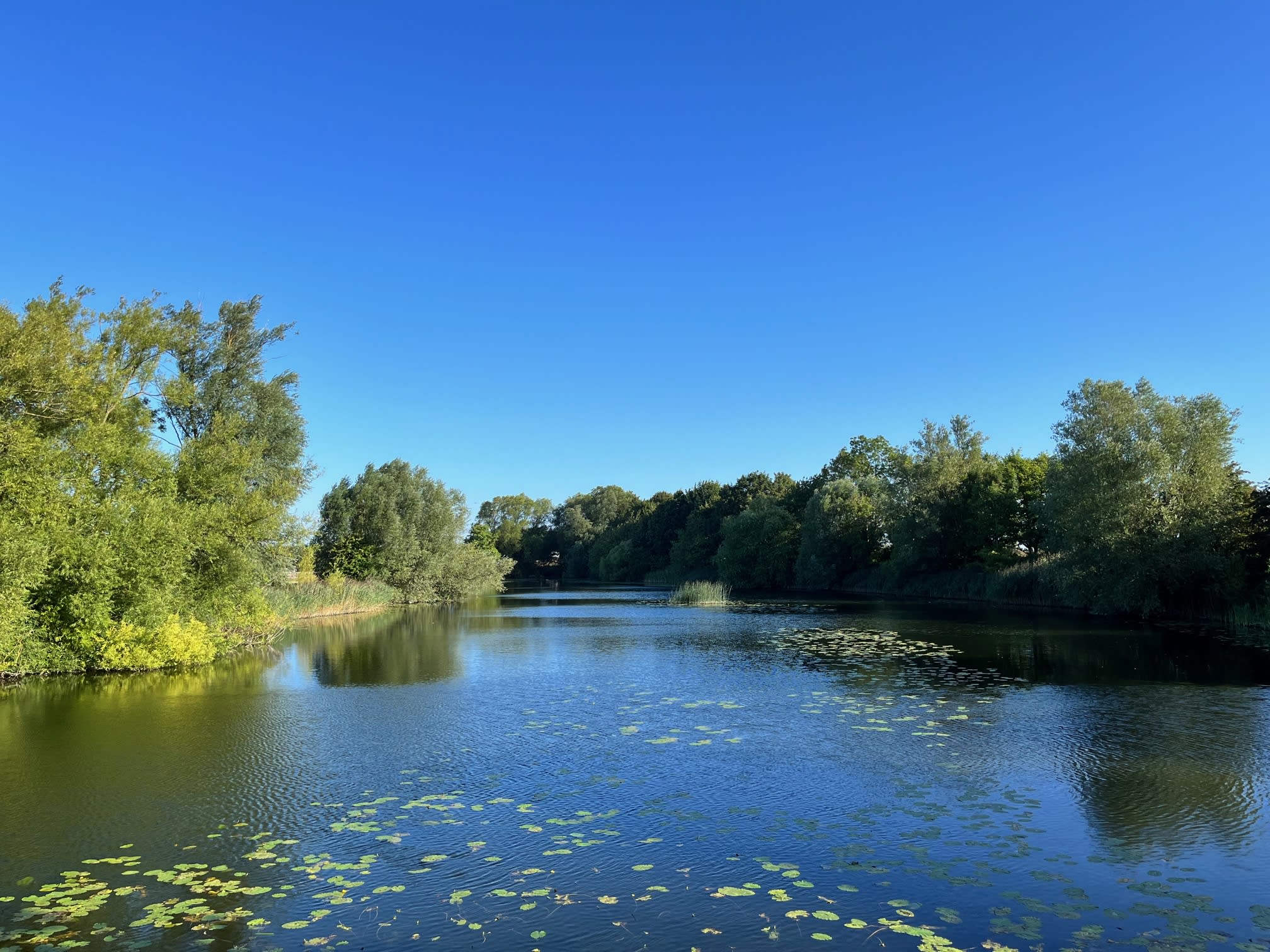 That's all
So as you can tell, it has been a busy month full of change - but it has been a great month. We know it's going to take a while to get used to being on a meat and fish-free diet - but there is so much more choice out there - it's just a mindset change.
Don't worry I am not going to try and persuade you to give up meat or get rid of all your possessions - it's just a lifestyle my wife and I have made for us and our children.
📺 Watching
📖 Reading